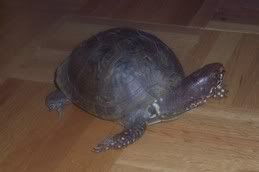 This is Spot
This is Spot's Home
Spot is my new pet he is a Box Turtle, we got him on Saturday. He likes to eat dandelions, apples, vegetables and all types of fruits. We got him some turtle snacks but he likes dandelions better. He is in the aquarium in my room on my video shelves. Sunday when my Grandma and Grandpa were over we let him out on the patio. My friend Anna came to see Spots. Spots spent the whole time under Grandpas feet and then he crawled over to my Mom. He takes a bath for 20 minutes every other day. He had his bath outside yesterday. Spots doesn't like to be upside down, it makes him nervous, he wiggles his hands and feet.
Yesterday my friend Alex was on TV. I didn't watch the whole movie but I watched the parts when she was on.
This weekend my Grandma and Grandpa are going to take me to see the trains at the Botanic gardens. My sister is going, but she doesn't like trains that much.
the end (Cole typed this)